The Australian Early Development Census (AEDC) conducts analysis every three years on how Australian children have developed by the time they start school and the 2018 results are now available. The report reviews five early childhood development domains: physical health and wellbeing, social competence, emotional maturity, language and cognitive skills, communication skills and general knowledge.
The 2018 report by the AEDC now available, collected data on over 96% of Australian children in their first year of school. The report clearly communicates the importance of the development domains through data visualisations allowing all educators access to understanding and applying this knowledge into Quality Improvement Planning, educational program assessment, and professional development goals.
As you can see below one in five children and two in five Indigenous and Torres Strait Islanders were developmentally vulnerable in one or more domain(s) when they started school.

As seen below, the 2018 State and Territory graph showcases the vulnerability of children regarding the five early childhood development domains with Queensland, Northern Territory, South Australia and the ACT ranking as some of the highest states with children vulnerability in Australia:


Queensland was ranked against other states showcasing some of the highest percentages of vulnerability in Australia, in particular, physical and social development domains.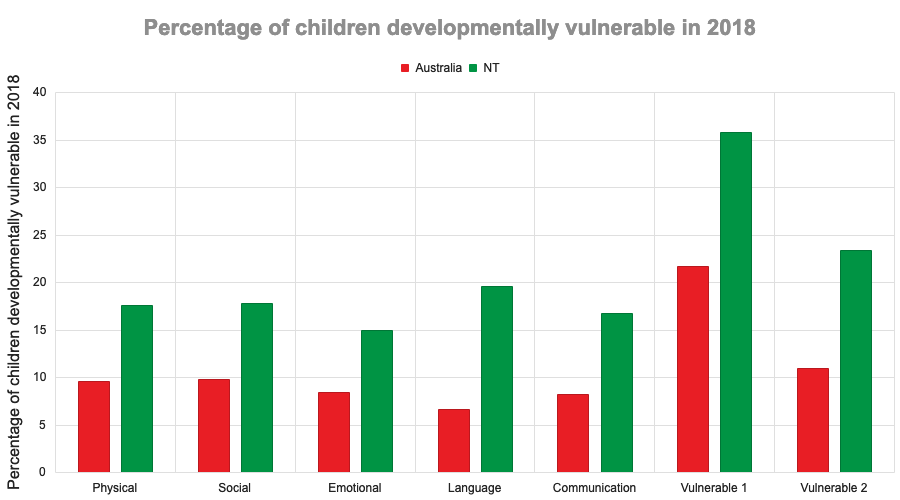 ACA Qld encourage the use of the AEDC to assist you with understanding and interpreting the percentage of children developmentally vulnerable in your area of childcare services. This data allows the opportunity to adjust and build a stronger, higher quality improvement plan, educational program assessment and professional development goals for your Early learning services proceeding into the future.
To find out more information about the results and how you can use them please visit www.aedc.gov.au.