Every year ACA Qld supports a chosen cause on behalf of our members. This year, we have chosen two very deserving causes, one of which is Zephyr Education.
In April 2013, an article appeared in the Courier Mail highlighting the plight of mothers and their children arriving at domestic violence shelters, often with only the clothes on their backs. The article made a plea for essential items for the children, such as school bags, school shoes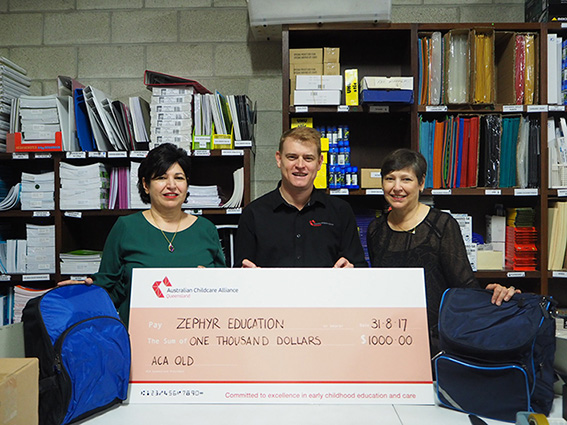 , socks, stationery, books, etc.
The hope was that a large corporation would step up. The thing is, it wasn't a large corporation that stepped up, it was sisters Isabella and Carmel.
Isabella and Carmel had no idea what they were getting themselves into. Their initial goal was to support one or two shelters in Brisbane to assess their needs and their capacity to meet them. They soon realised that there was a vital need for the items they were providing and that many other shelters needed support.
At the start of 2015, they were supplying items to children at five shelters in south-east Queensland. By the end of the year, that number had increased to 16.
Now, Zephyr Education is assisting children in 52 shelters throughout Queensland, from the Gold Coast to Cairns as well as in Mt Isa and other western regions.
In 2016, in response to a request from the manager of a shelter in Tasmania, Zephyr Education extended their operations. They now supply school items to children in all seven shelters operating in Tasmania. The entire operation still operates out of Isabella's garage. No one is paid to work for Zephyr and it is supported 24/7 by many volunteers who are not reimbursed for personal expenses therefore 100% of donations go directly to the children.
For Zephyr to work, attention to detail is vital and they have a three-step plan.
Step 1 – Shelters are flat out. Respond to their need, make your system work for them.
Step 2 – Do it properly! They assembled the school book list and uniform requirements for every grade, so they knew exactly what each child would need, down to the right calculator, lunchbox, text books and protractor. "They need sun shirts or there's no swimming. All those things mark the child as "different" and make them stand out," Carmel said. The aim is for you to not be able to pick out that kid from the shelter.
Step 3 – Timing is crucial. Starting day. The reality is NO other charity can do this within 24-48 hours. Physically, Zephyr can't stretch any further, their hope is that someone will replicate their economical, practical, highly effective model in other States and Territories.
Zephyr Education is supported by Isabella (President), her husband David, Carmel and her husband Terry, Helen and Bob with the help of family, friends and neighbours.
For more information on how to get involved, donate, support or just follow the journey please like Zephyr Education on Facebook or visit their website https://www.zephyreducation.com.au/.