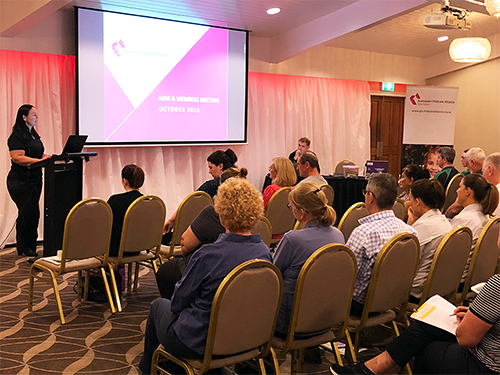 Attending an ACA Qld Members' Meeting is a great opportunity for you to meet other early years professionals, share ideas, and receive the latest information in the early learning sector.
Did you miss our meetings? You can downalod the slides and watch the full recorded virtual meeting here.
If you have any questions, please contact us on 07 3808 2366 or qld@childcarealliance.org.au.
March Members' Meetings
The meeting will cover the following:
Upcoming Federal election - possible policy changes and implications & how you can get involved
Industrial Relations update - Equal Remuneration Order (ERO) & 4 yearly review of modern awards
ACA Qld 2019 National Conference
A detailed agenda will be released shortly.
Brisbane - Monday, 18 March 2019, The Glen Hotel Register>>
Gold Coast - Tuesday, 19 March 2019, The Club at Parkwood Village Register>>
Sunshine Coast - Wednesday, 20 March 2019, Maroochy Surf Club Register>>
Ipswich - Thursday, 21 March 2019, Jets Leagues Club Register>>
Toowoomba - Thursday, 21 March 2019, Burke and Wills Hotel Register>>
Townsville - TBA
Virtual Meeting
ACA Qld General Manager, Brent Stokes, is hosting a virtual meeting for those members who will be unable to attend a members' meeting in person.
Date: Wednesday, 20 March 2019 , 1.00pm – 2.00pm
Where: Your computer
Cost: Free​